+++++++++++++++++++++++++++++++++++++++++++++++++++++++++++++++++++++++++

We are planning on breeding Peka around January 2017! If my calculations are right and she cooperates.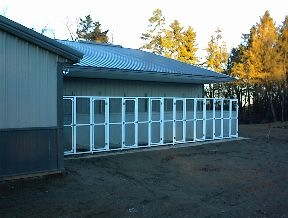 ++++++++++++++++++++++++++++++++++++++++++++++++++++++++++++++++++++++++++

The main emphasis of our site is to inform you on our dog boarding facility, our Vizsla dogs, and North Dakota hunting!

Dog Boarding:

Our dog boarding kennels are 4' X 6' on the inside of the kennel with a doggy door to a 4' X 8' outside run. The kennels have heated floors for warmth in the Minnesota winters and are air-conditioned for the summer months.

Each boarding kennel has plastic sides inside and out to keep dogs from seeing each other which helps in calming the dogs. The outside runs have wire tops to keep any dogs from climbing out.

See our Boarding Service page for the cost of having your dog kenneled with us. Additional information and pictures are also included on the page.

When you are leaving to go on a trip, the last thing you want is to worry about your pet. That's why we're here, to keep you from worrying!

Our Vizsla dogs:

We have two female Vizsla dogs. Peka and Sadi are featured on our site(I will get some hunting photos of Peka this fall). Our Vizslas are registered by the American Kennel Club and are OFA certified. Occasionally we have Vizsla puppies for sale. Vizslas are pointers and are excellent upland hunting dogs. Our Vizslas have prove that to be true! They have hunted Minnesota, South Dakota, and at our cabin in North Dakota. Every hunting trip has been a great success with many pheasants found because of awesome points by Tess and Sadi. The three of us spend 28 days a year pheasant hunting the Zeeland, North Dakota area. Our Hunting Dog Links page has some additional information on Vizslas and upland hunting.

North Dakota Hunting:

Visit our page on North Dakota Hunting to see how you too can experience hunting in North Dakota and rent our hunting lodge. Feathers Four Us is located in Zeeland, ND. It is owned by three men who love to pheasant hunt. Schedule your hunting trip today by emailing Lonny at Maple Grove Kennels for available dates. We rent the lodge all year round!

Please contact us with any questions regarding our dog boarding facility, our Vizslas and available Vizsla puppies, and/or pheasant hunting in North Dakota.

See where Maple Grove Kennels is located and come visit us!